Top 10 places one can visit in Shirdi
February 21, 2018 - Yashwanth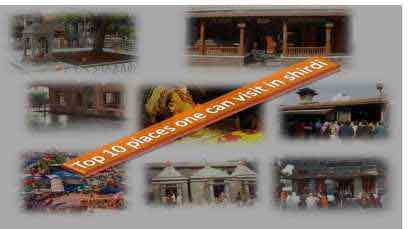 1. Gurusthan shirdi: this is one of the most important place in shirdi. The neem tree which is present outside the temple has 2 main branches and one of them tastes sweet. it is believed that sai Baba use to sit under this Tree for meditation and he was first found below this tree.
2. Maruthi Mandir: it is present between Dwarkamai & Chavadi. This Hanuman Temple is just outside the Gate No 3. It is one of the Oldest temple in Shirdi. Maruthi Mandir is dedicated to lord hanuman, Parama Bhakth(devotee) of Shri Rama. It is said that baba used to stand in front of temple and wave his hand with some unknown signals and stood silently for few Min.
3. Upasani Maharaj Ashram: this ashram is of a Saint lived in 20th century, which is named over the saints name Upasani Maharaj. He was the devotee and disciple of saibaba. Located in Ahamednagar-shirdi Highway. This ashram has the Samadhi of the saint Upasani maharaj and one of his disciples.
4.Shri Khandoba Mandir: it consist of Khandoba, Banai,Mhalsai. Primary this temple is dedicated to Khandoba Deity of the city, it is one among thirteen most important Khandoba temple. The temple is mainly dedicated diety located in Jejuri, neare Pune. Basicallt there are 2 shrines in the temple one is of Saibaba with Charan Padukas, and another is of Khandoba's Horse, it is considered to be form of Shiva.
5. shri Ganesha,Shani & Mahadeva Temple: these temples are in same place containing Samadhi Mandir. And they are located closely with each other having an Idol of Lord Ganesha, Shani Dev and Lord Shiva, in Shani Temple there is Small DHUNI and image of Sai Baba. Mahadev temple possesses a Nandi and erected Tiger. It is believed that this tiger got salvation under the feet of Baba, at Dwarkamai Mosque. Whenever saibaba goes to Lendi Baug he use to visit the Temple.
6. Wet N Joy Water Park: this is the only amusement park for families and friends after visiting saibaba you can find lot variety of rides for Children's and also for Elders. It is also one of the major water park in India the distance from shirdi to this park is 2KM
Visit Shirdi from Bangalore
7. Baba Chavadi: Chavadi is a place or an office and all the village disputes settled here, at the last years baba used to spend every alternate nights at Chavadi, this is located near Dwarkamai Mosque. This place is of great importance to sai bhakt's as every Thursday the procession goes from here.
8. Dwarkamai Masjid: it is one of the place where baba lived for 60 years. There is one stone near the mosque where baba use to sit. In this Holy place sacred fire called Dhuni lit by baba keeps on burning baba use to give the ash to all devotees. Baba use to cook food for all near this place. This is the place where palki is kept.
9. Saibaba Samadhi Mandir: the main attraction in shirdi the peoples far from the word believes that "whoso ever steps in to land of shirdi his sufferings come to an End" and it is actually true, here one can get VIP passes and also ordinary Darshan
There are 4 major aarties namely:
•Kakad Aarti (The Morning Aarti) at 4:30 (am)
•Madhyan Aarti (The Afternoon Aarti) at 12:00 (pm)
•Dhup Aarti (The Evening Aarti) 6:30 (pm)
•Shej Aarti (The Night Aarti) at 10:30 (pm)
Get shirdi package from Bangalore by flight Now
10. Shirdi sai museum: This museum is inside the temple premises containing the clothes of Baba, his cooking vessels, his padukas, pipes stick and all the other things he used during his stay in shirdi. Ano can have a real life experience of baba in this museum and they stored it well.
- guide by Yashwanth (updated on 11th sep 2017)